Conjunctivitis can refer to either a viral or bacterial infection (both very contagious), or an allergic reaction (not contagious).
What to look for:
The eye appears red or pink due to inflammation of the conjunctiva, the thin, filmy membrane that covers the inside of eyelids and white part of eye.
The eye tears, has discharge or both, and is usually itchy and uncomfortable.
When a viral infection is the cause, the child may also have a fever, sore throat and runny nose.
Birdshot retinochoroidopathy is a rare form of bilateral posterior uveitis of the retina and choroid, the layer of blood vessels under the retina. The cause of BR is unknown. It usually affects both eyes. Symptoms are poor vision, night blindness, and disturbance of color vision. Pain is rare.
What to do: If the child has (or may have) contagious pink eye, he or she needs to stay home from school or return home to avoid infecting others. Contagious pink eye usually resolves in three to seven days. When the tearing and discharge from the eyes has stopped the child may return to school.
Chalazion
Chalazion looks like a small lump on the eyelid, and may occur when a meibomian gland (an oil-secreting gland in the eyelid) becomes clogged. It is not caused by infection
Stye
A stye looks like a red, sore lump near the edge of the eyelid; it is caused by an infected eyelash follicle.
Preseptal or Orbital Cellulitis
Cellulitis is an infection related to trauma, an upper respiratory infection or an eyelid infection.
What to look for: The tissues around the eye appear red and painfully swollen. The condition usually occurs in one eye, which may be swollen shut. The child may have a fever. More serious preseptal or orbital cellulitis infections can cause decreased vision, an inability to move the eye, and the appearance of the eye being pushed forward.
What to do: Both forms of cellulitis are serious conditions that require urgent medical attention. Take the child to a primary care doctor or other qualified health professional who will co-manage the child's treatment with an ophthalmologist.
Blocked Tear Duct
A blocked tear duct is when the eye's drainage system for tears is either partially or completely obstructed. Tears cannot drain normally, causing a watery, irritated or chronically infected eye
What to look for: Symptoms of a blocked tear duct may include watery eyes or tears running out of the eyes.
What to do:A baby can be born with a blocked tear duct, but the condition usually resolves on its own within the first year of life. In some cases, your ophthalmologist may recommend that you use a special massage technique to help open up the membrane covering the lower opening into your baby's nose. He or she will demonstrate how to correctly do this massage.
Your Comprehensive Eye Exam
Your eyes are one of the most complex organs in your body. A comprehensive eye exam to assess your visual system and eye health involves a number of different of tests. Unlike a simple vision screening, which only assesses your vision, a comprehensive eye exam includes a battery of tests in order to do a complete evaluation of the health of your eyes and your vision
e are some common exams that you may encounte: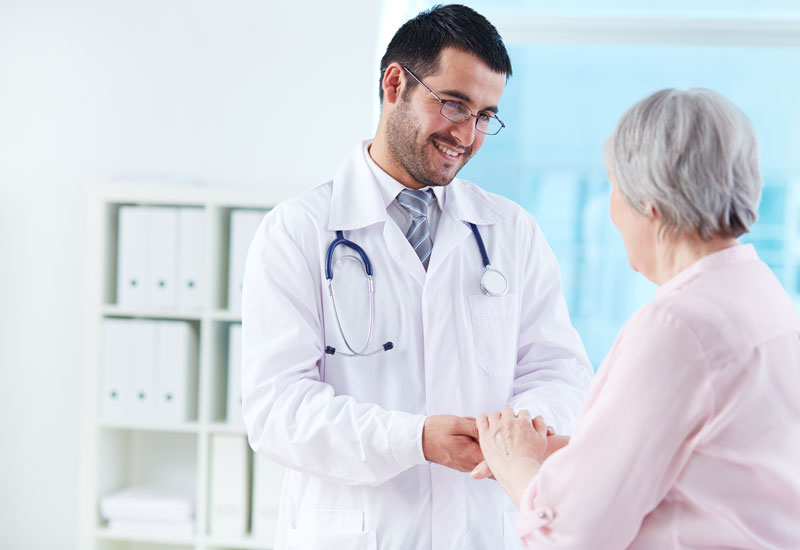 One of the most important parts in a comprehensive eye exam is your patient health history. This information will alert your doctor to any conditions that should be monitored closely, such as an allergy to any medications, current or family history of systemic or eye pathology or environmental conditions that could be affecting your vision or eye health. This will also help your doctor to determine any preventative eye care measures that are relevant to keep your eyes healthy for years to come
Visual acuity is a measurement of your vision using an eye chart, the Snellen Eye Chart. In this test the patient is seated at a standard distance and is asked to read letters or symbols of various sizes, which get smaller as you move down the chart. This test is a preliminary test of how clearly you are seeing in each eye but it does not give you a prescription for corrective lenses.
Those who don't have 20/20 vision have what is referred to in most cases as a "Refractive Error." The patient may have nearsightedness, farsightedness, astigmatism or other eye conditions that prevent the patient from seeing 20/20. A refraction will tell the doctor which prescription lenses will correct your eyesight to achieve 20/20 vision or whichever amount your vision is correctable to.
The final and most important aspect of a comprehensive eye exam is a check of your overall eye health. These tests (below) are done to identify any eye conditions or diseases, both inside the eye as well as the external parts of the eye, that could affect your vision and general health.
The slit lamp or biomicroscope is an instrument that allows the doctor to examine the internal and external parts of the eye in detail, such as the conjunctiva, iris, lens, cornea, retina and the optic nerve. The patient rests their forehead and chin on a headrest to stabilise the head, while the doctor looks into the eye with the slit lamp microscope, which is magnified with a high-intensity light. A slit lamp test enables the doctor to evaluate the eyes for signs of normal ageing and eye pathology, such as conjunctivitis, cataracts, macular degeneration or retinal detachment. Early diagnosis and treatment of eye diseases are essential for preventing vision loss.
Tonometry is a test to detect glaucoma by measuring the pressure inside your eye or IOP (intraocular pressure). Glaucoma can cause vision loss and even blindness if the IOP in the eye is too high and damages the optic nerve.
The applanation tonometer, typically attached to a slit lamp, is one of the most common instruments used to measure the pressure in the eye. Prior to doing this test the doctor will numb the patient's eyes using an anaesthetic, before gently applanating (putting pressure on) the patient's cornea to measure the pressure in the eye.
During your comprehensive eye exam, your doctor may decide to do a dilated eye exam to examine your retina. In this test, your doctor will instill dilating drops in each eye, which would enlarge your pupils to give the doctor a better view of certain parts of the back of the eye. Dilation is done at the discretion of the doctor, with some patients dilated every year and others at specified intervals; the frequency of dilation will vary for each patient.
Typically the drops take around 20 to 30 minutes to take effect and may last up to several hours following the exam; each patient is different. Since more light enters your eyes when your pupils are dilated, you will be more sensitive to bright light, especially sunlight. Although your doctor may provide disposable sunglasses, you may want to bring a pair of sunglasses to wear after the exam to make it more comfortable until the drops wear off.
A comprehensive eye exam is an important part of your overall general health maintenance and should be scheduled on a regular basis. The findings from your comprehensive eye exam can give your doctor important information about your overall health, particularly diabetes and high blood pressure.